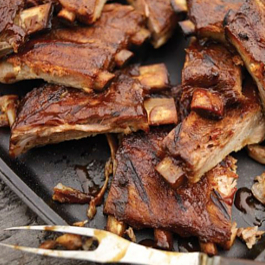 Courtesy of Kraft Kitchens
Servings: 6
Prep Time: 15 Min.
Cook Time: 2 Hr. 10 Min.
Marinate: 1 Hr.
* 3 lb. pork baby back ribs
* 1/2 c. packed brown sugar
* 1/4 c. bourbon
* 1/2 c. HEINZ BBQ Sauce Memphis Sweet & Spicy
1. Place ribs on large sheet of heavy-duty foil sprayed with cooking spray. Mix sugar and bourbon until blended; spread onto ribs. Wrap in foil. Refrigerate 1 hour.
2. Heat grill for indirect grilling: Light one side of grill, leaving other side unlit. Close lid; heat grill to 350ºF. Place ribs on grate over unlit area; cover. Grill 2 hours, monitoring for consistent grill temperature.
3. Unwrap ribs; place, meat sides down, on grate over lit area of grill. Brush with 1/4 cup barbecue sauce. Grill 10 min., turning after 5 min. and brushing with remaining barbecue sauce.