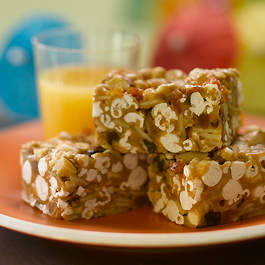 Courtesy of The Popcorn Board
Servings: 32
Prep Time: 10 Min.
Cook Time: n/a
Chill Time: 10 Min.
* 1 c. honey
* 1-1/3 c. peanut butter
* 1(6 oz.) bag tropical dried fruit bits
* 1 c. sliced almonds
* 4 c. popped popcorn
1. Line a 9 x 13-in. baking pan with foil. Spray foil lightly with cooking spray; set aside.
2. Heat honey in a large saucepan until boiling. Stir in peanut butter until well blended. Remove pan from heat and stir in fruit bits, almonds and popcorn until coated. Scoop and press mixture evenly into prepared pan. Refrigerate until cool. Cut into bars to serve.